T1 Fest announces 2023 lineup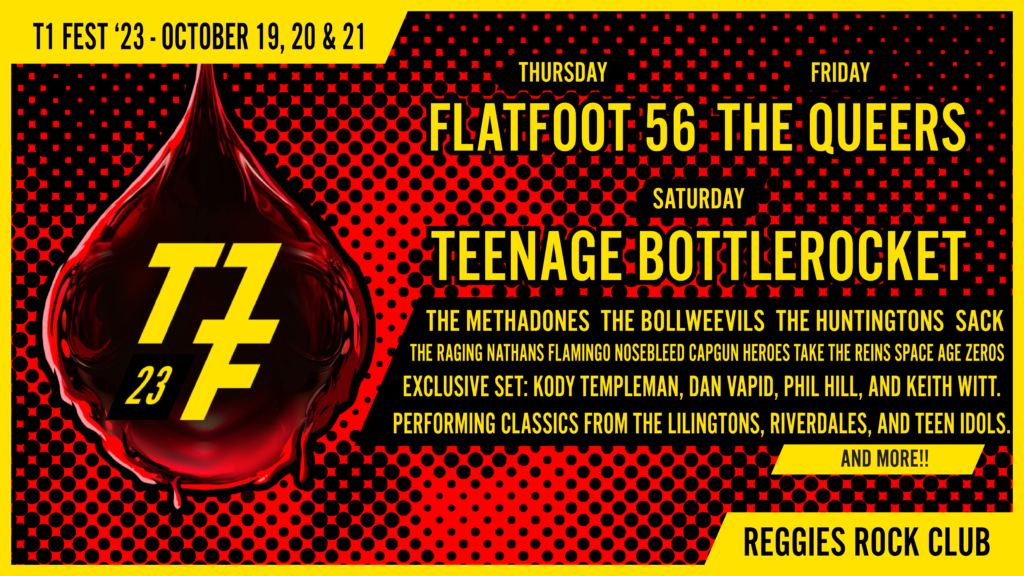 T1 Fest is coming to Chicago at Reggie's Rock Club on October 19, 20, and 21!
This year, the headliners will be Flatfoot 56 (Thursday), The Queers (Friday), and Teenage Bottlerocket (Saturday). There will be an exclusive set on Saturday Oct 21st with special guests Kody Templeman, Dan Vapid, Phil Hill, and Keith Witt.
Get your tickets for T1 Fest here!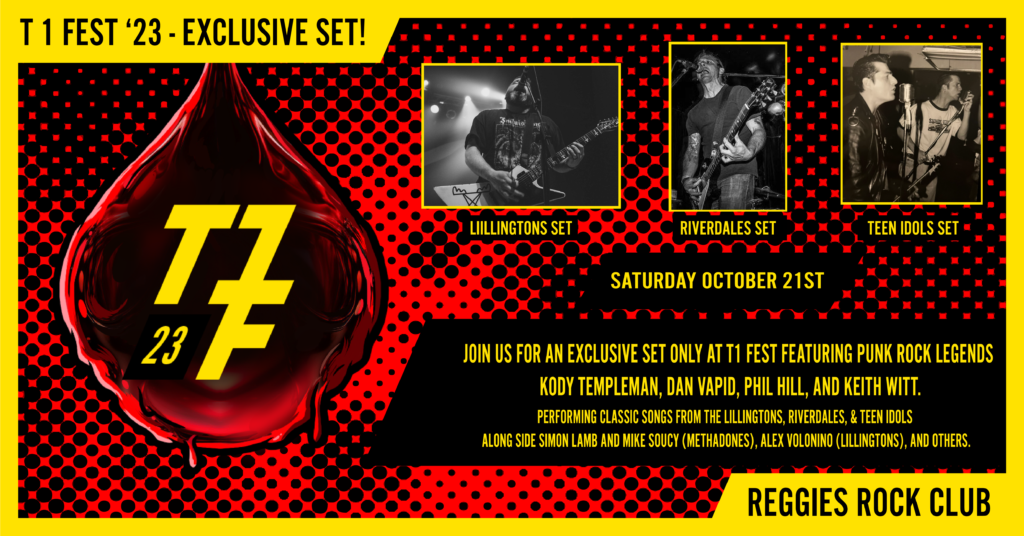 About T1 Fest
T1 Fest was started by Jim Costanzo (Punkhead Records) and friend Joe Inglima when Joe's son was diagnosed at age three with Type 1 diabetes, also known as T1D. The first fest was held in 2019 with performances by Smoking Popes, The Lillingtons, Brendan Kelly (Lawrence Arms), Flatfoot 56, The Brokedowns, Dan Vapid & The Cheats, and many more.
In 2020, the festival hosted a special livestream during the COVID-19 pandemic with artists like Dan Vapid (Sludgeworth, Riverdales, The Methadones), Jen Pop and Poli van Dam (The Bombpops), and Haley and The Crushers.
After a year hiatus, the festival returned in 2022 with The Methadones (marking their first show in over 8 years), Nerf Herder, Direct Hit!, Tightwire, Josh Caterer Trio, and Dan Vapid & The Cheats.
"Our goal is to make a difference using the power of music and community to bring people together to create awareness for Type 1 Diabetes. By fostering a sense of community, we seek to uplift, educate, and empower fans to become advocates for change.  [And] live in a world where everyone with Type 1 or Type 2 diabetes – no matter where they live – has everything they need to survive."  – Jim Costanzo, T1 Fest Founder & Capgun Heroes Bassist 
Daily Lineups
Thursday: Flatfoot 56, The Huntingtons, Take The Reins, Space Age Zeros, Sex Dream
Friday: The Queers, Sack, The Raging Nathans, Flamingo Nosebleed, Hospital Job, Zoanoids
Saturday: Teenage Bottlerocket, The Methadones, The Bollweevils, Capgun Heroes, Bricheros, The Stephens, The Winks, Goodbye Sunshine, The Rip Taylors
Exclusive Set: Kody Templeman, Dan Vapid, Phil Hill, and Keith Witt (Performing classics from the Lillingtons, Riverdales, and Teen Idols)
Get your tickets for T1 Fest here!
Learn more: https://t1fest.com/
Follow T1 Fest on socials for updates:
Want more? Watch our Riot Fest 2023 interviews here!
Author
Noelle Matonis
Producer & Host, Pop-Punk & Pizza