Why should my band or business sponsor an episode of Pop-Punk & Pizza?
One of the main reasons people listen to Pop-Punk & Pizza Podcast is to hear new music! That means YOUR music. I can't tell you how many messages, emails, and comments I've received from listeners telling me this podcast has become one of their main sources to discovering new pop-punk bands. While we don't have thousands upon thousands of listeners, we do have a few hundred dedicated followers, and growing. Unlike other ways of advertising, like on social media, your ad will be on that episode of the podcast FOREVER. Whether it's two months or two years from now, that episode you sponsored will ALWAYS be there. Pop-Punk & Pizza is gaining new listeners every week. Many times those new listeners will go back and listen to all, if not, most of the previous episodes. Many listeners of Pop-Punk & Pizza are also members of bands. So if your business is geared towards artists in anyway, this podcast is the perfect platform to get the word out about the services or products you offer. Maybe you're a screen printer, musical equipment dealer, photographer, graphic artist, or vinyl manufacturer. Not to mention all of our listeners love pizza! The list could go on forever. Pop-Punk & Pizza has the demographic you're looking to hit!
What's included when I sponsor an episode? 
• Play a clip of your song at the beginning and/or live read about your business.
• Mention in the middle of the episode.
• Play the song in full and/or live read about your business at the end.
• Song gets added to the "As Heard of Pop-Punk & Pizza Podcast" Spotify playlist for life.
• Mentioned at the top of the episode post on our website: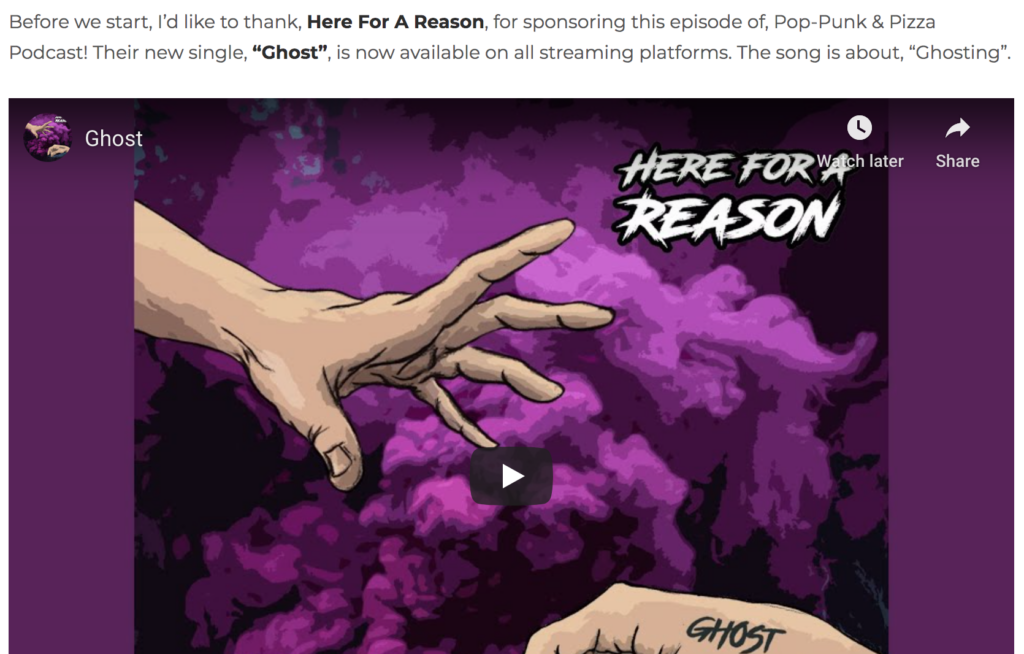 • Three social media posts:
1. Before the episode drops: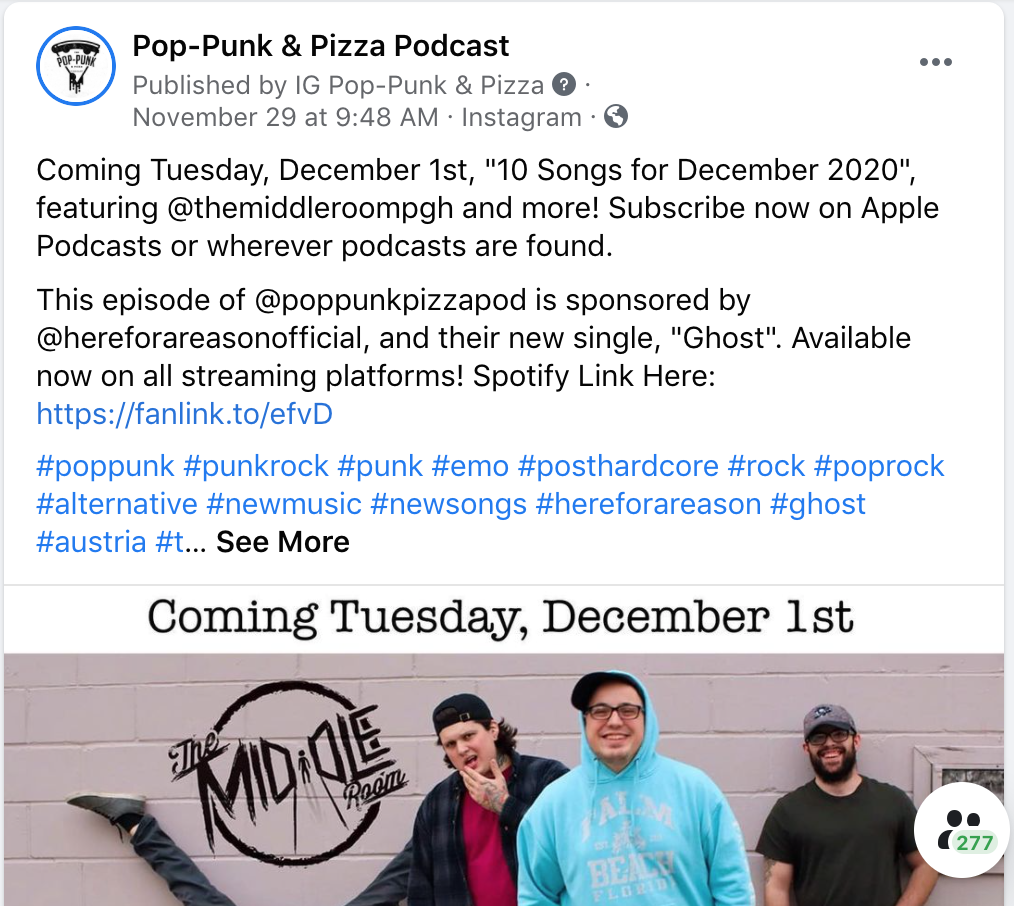 2. When the episode is released: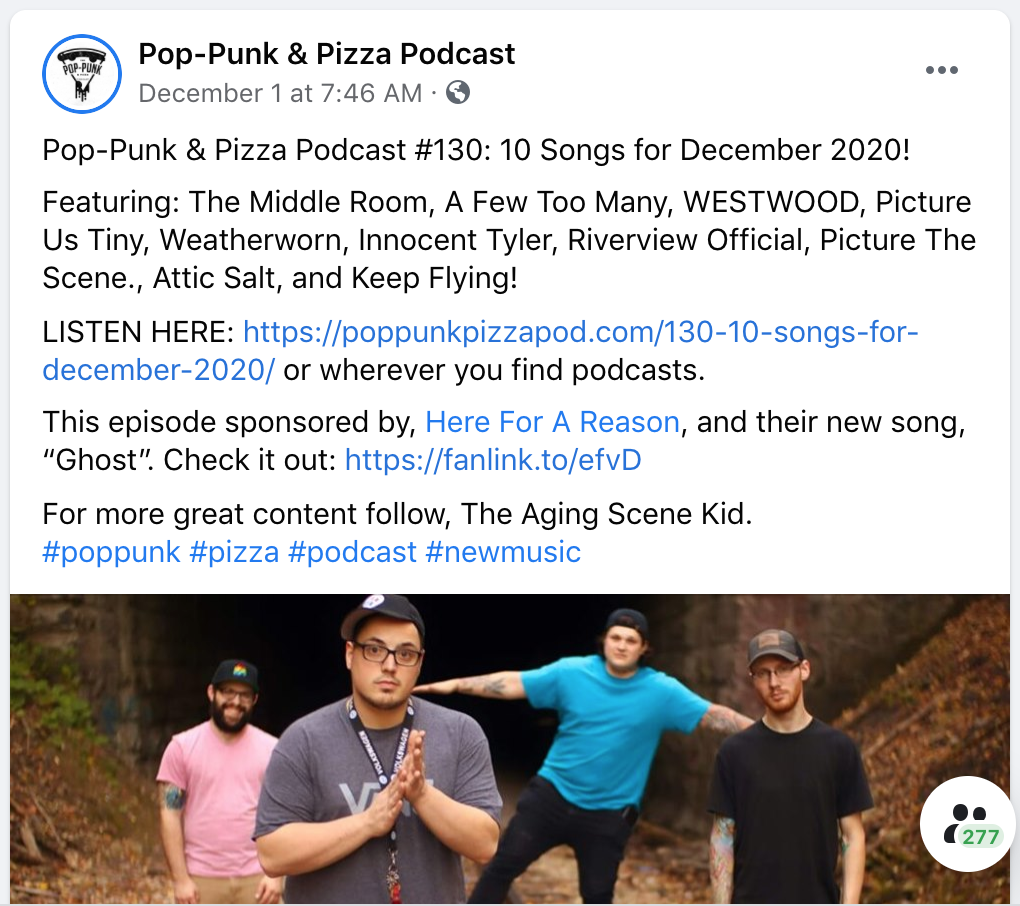 3. One final post at the end of the week: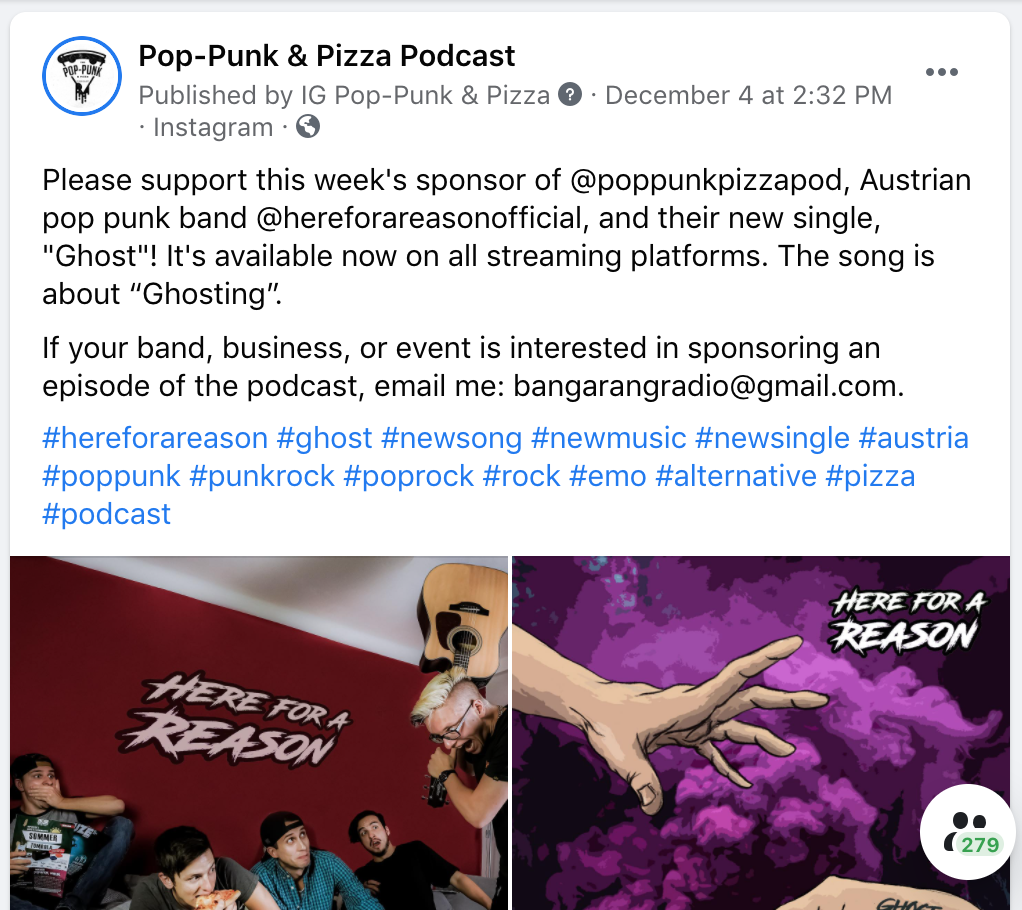 All three posts are published on the Pop-Punk & Pizza Twitter, Facebook, and Instagram accounts, Facebook Group, and my personal Facebook and Twitter.
What's the cost? 
The price breakdown is as follows:
1 to 4 episodes – $30.00 each.
5-9 episodes – $25.00 each.
10 or more episodes – $20.00 each.
Interested? Let's do this!
If you're interested in a sponsorship, please fill out the form below, and include as much information about your band, business, event as possible. I will get back to you ASAP! 
Thanks a ton!
Jacques LaMore