Morning In May talk Dead Set Slander, tour with Makeout, and more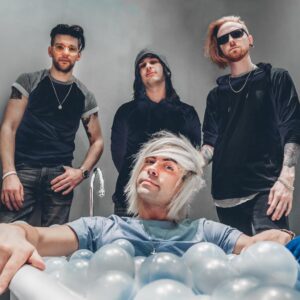 Jake, Andrew, John, and Joe from Morning In May, a pop-punk-fused-with-metalcore band based in Cleveland, Ohio, talked with me about their upcoming tour with Makeout, the story behind the song "Jake From State Farm Ruined My Life", from their upcoming album Dead Set Slander, and more!
Morning In May started out as a solo project of Jake Bartolic, with the EPs Somewhere In Slumber (2020) and I Still Can't Even (re-released 2021). The band has been signed to ManicKat Records and Needful Things Records in the past, but for this album, they decided to go independent.
When I asked about the challenges of recording this album, Jake exclaimed with a laugh, "Oh my God, all of them! There's so many!" He went on to explain the challenges they'd had with one of their previous record labels whom he refused to name. "They don't [deserve] any notoriety at all." When I asked if there's a different label they would like to be signed to in the future or if they'd rather stay independent, Jake told me, "I would probably rather stay independent."
Joe added, "You have all the tools to be able to do everything a record label can do for you."
Jake continued, "We can go get credit cards if we want. Thats pretty much all you need, pretty much what a label is now. It's just, 'Hey we can rack up this amount of money, and hope for the best, and then whether or not it succeeds, whether or not you guys break up, you still owe us money.' But we're more pay-as-you-go kind of people."
From metalcore influences like Kingdom of Giants and The Amity Affliction to pop punk and The Used to Britney Spears, Dead Set Slander is an album you can headbang to as well as dance to.
"We pretty much wrote pop songs in drop tuning. We were like, what tuning does Slipknot play in? So we dropped it all the way down; [and] we were like, let's write pop songs."
On top of that, the song titles are great too. The band told me about the story behind "Jake From State Farm Ruined My Life." 
"It's stupid, first off," Jake laughs, "Andrew and I were at a party in LA, and a lot of really cool people were there, so Ice-T from Body Count, or SVU, whatever you want to watch, New Year's Day, I think Zakk Wylde was there, all these people were there. So we don't like being just the people in the 'crowd', so Andrew and I were like, 'Let's take a picture!' So our manager was there at the time, with a couple of his clients, and we were kind of all together, so we thought it would be cool to take a picture, but more vertical, so we climbed a watchtower, in the venue, that was like a support beam or whatever–it was easy to climb."
Andrew added, "It was one of those 'X' things…like a truss."
"A truss!" Jake continued, "So we were each other's support team…in the air. So we got up there, we took a picture, and Andrew went so high that he wasn't in the picture exactly, it's just his shoe. So we got escorted out, I don't like to say kicked out, cause that makes it sound weird, but we got removed, and we thought it was fun. It was cool! And I wrote it, because that's the reality of stuff, like everybody thinks they're cool drinkin' and partyin' and stuff, but the reality is, you just look like an idiot, kinda dumb, and you're probably gonna go to the gas station afterwards and get some food. So I was like, why don't we write a song that's about the reality of that?"
Andrew added, "But is it not true that literally as a Jake–Jake from State Farm, that commercial– ruined your life? Like, my mom still says that. She'll be like Jake? From State Farm?"
"Oh!" he nods, "And I wanted to have a fun little title, so whenever I say, 'Hi, i'm Jake,' everybody's like," he continues in a mocking voice, "'From State Farm?' So I hate that…It's the worst."
You can watch the full interview on YouTube or listen on Spotify!
Pre-save Dead Set Slander by Morning In May here!
Catch Morning In May on tour with Makeout here!
Noelle Matonis
Pop-Punk & Pizza Podcast Intern