Waterparks Concert Review
Waterparks at House of Blues Chicago, IL on May 12
By: Noelle Matonis
Host of Pop-Punk & Pizza
(All photos and videos here are mine)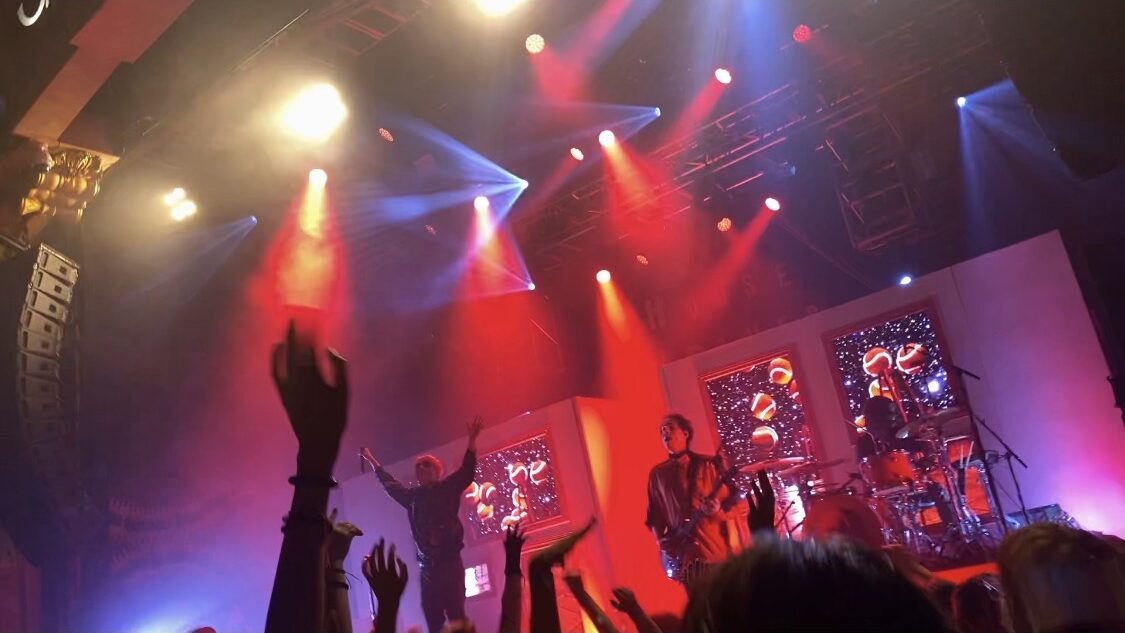 I saw Waterparks perform at House of Blues on May 12 (their first of two sold-out Chicago shows). In short, they were awesome. If you aren't familiar with Waterparks, they are a three-piece band with an overall pop-punk/alternative sound and hints of other genres mixed in, like hip-hop and heavier music like screamo. Since their album Greatest Hits (2021), or maybe FANDOM (2019), their sound has gotten more unique and harder to describe compared to their earlier, more pop-punk albums. I love all of them though and highly recommend you listen to them if you haven't already, especially if you like Twenty One Pilots, Blink-182, Fall Out Boy, Panic At The Disco, alternative, pop-punk, rock, or even pop.
Their new album, Intellectual Property, was released April 14, and now they are on their A Night Out On Earth Tour. The album's great by the way. At the show, they played a mix of songs from each album, including their EP Cluster (They played "Crave", one of my favorites).
Openers
The first opener was Elliot Lee, who was a solo act with no instruments, just pre-recorded music playing from the speakers. I would say their sound was left-of-center pop/alternative. The singer's voice was very high and it reminded me of a combination of Melanie Martinez and Billie Eilish. They had a lot of energy as they danced around the stage and interacted with the audience.
The second band, Hunny, technically has four members, but for some reason only two of them were there: lead vocalist and guitarist Jason Yarger and bassist and additional vocalist Kevin Grimmett. So I initially thought they were only a two-piece band. Somehow they made it work though. It sounded like a complete band to my memory, so they most likely had some pre-recorded elements as well.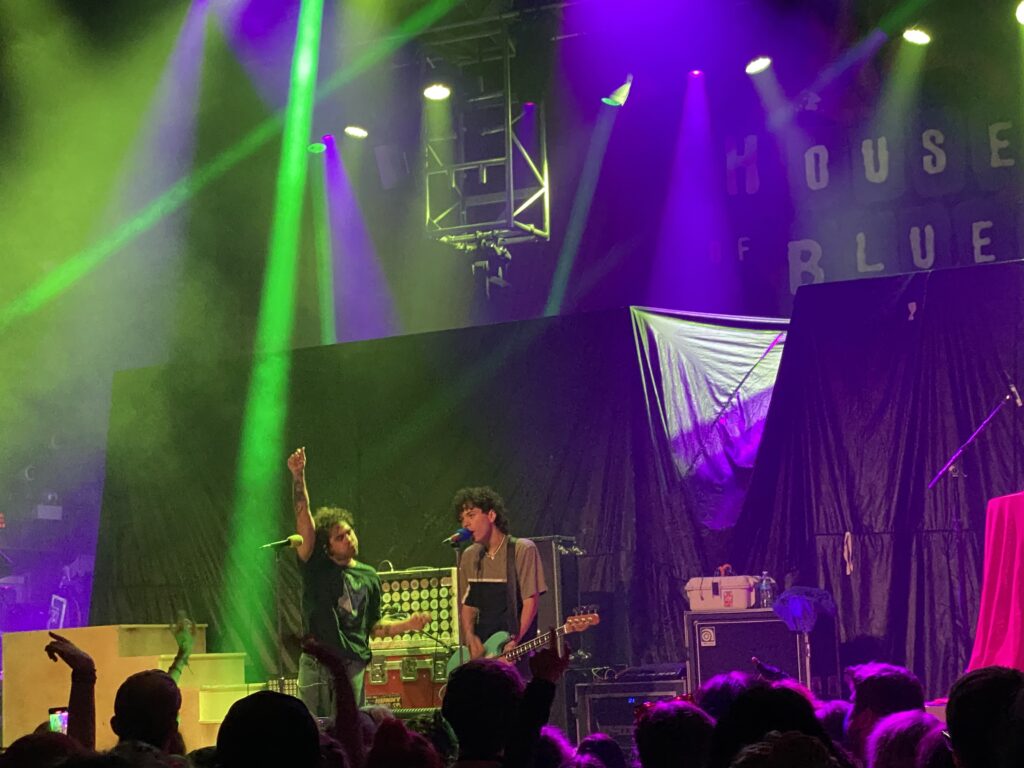 With their similar sweatshirts they had on in the beginning of their set, they looked like they could be brothers. Their sound was a mix of alternative rock and pop and reminded me a little of the band Phoenix. I haven't heard many of Phoenix's songs, but their sound had a similar vibe to the ones I've heard like "Lisztomania" and "1901". I could see why Waterparks chose them as an opener, because they had a pop-rock sound with some shimmery 80's electronic elements sprinkled in, like Waterparks sometimes has in their songs. That's probably not the best way to describe it but I'm trying my best.
When they started, the singer/guitarist had to keep gesturing to the sound crew and telling them to make his guitar sound lower until they finally did (I think), which was kind of funny, but he continued the song as he did so. As their set went on, it seemed like they had more energy and so did the crowd.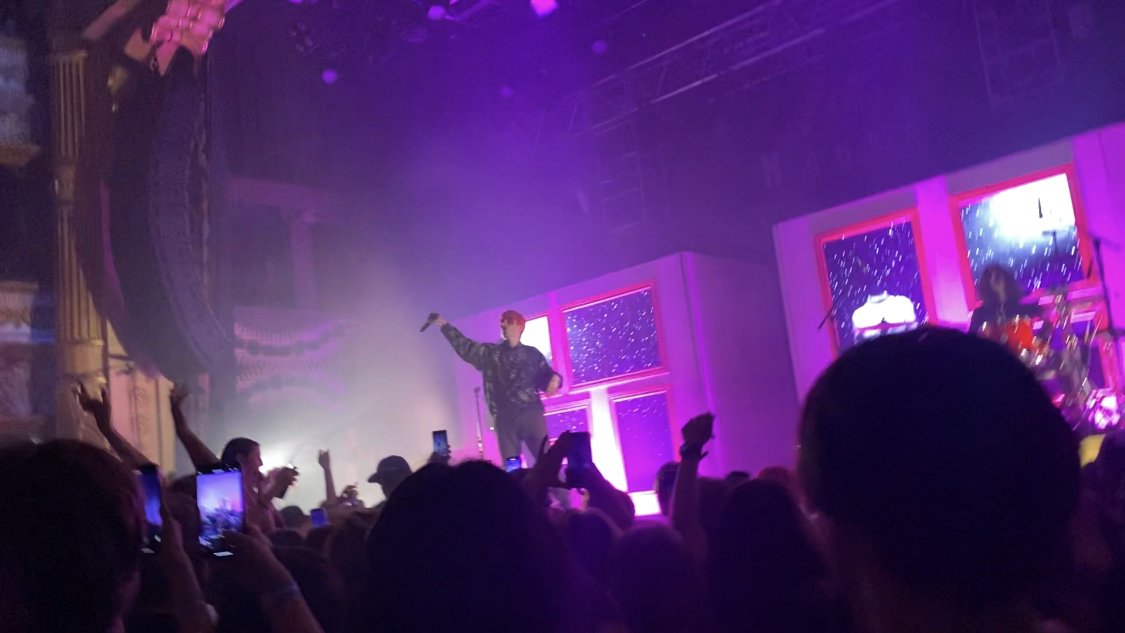 Sound Quality
Their sound quality was great, even though it was very loud. With some shows, it's just so loud that the sound can get muddled and you can't really hear what the band is saying/playing, but that was not the case with this show. Awsten Knight's vocals were clear, so I could hear what he was saying and singing the whole time, and the music was also clear and did not overpower the vocals.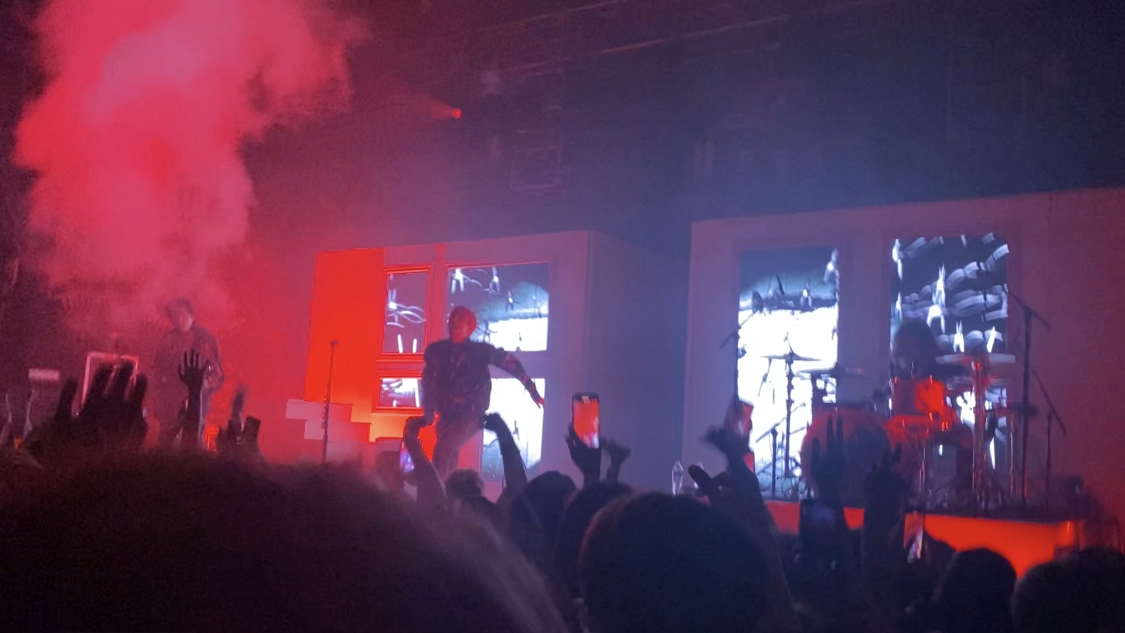 Set
Their set was cool too; it was a house façade with windows, which were screens that had the visuals on them. In addition, they had colorful lighting that went along with the music and cryo that spurt out every once in a while, which was cool.
Performance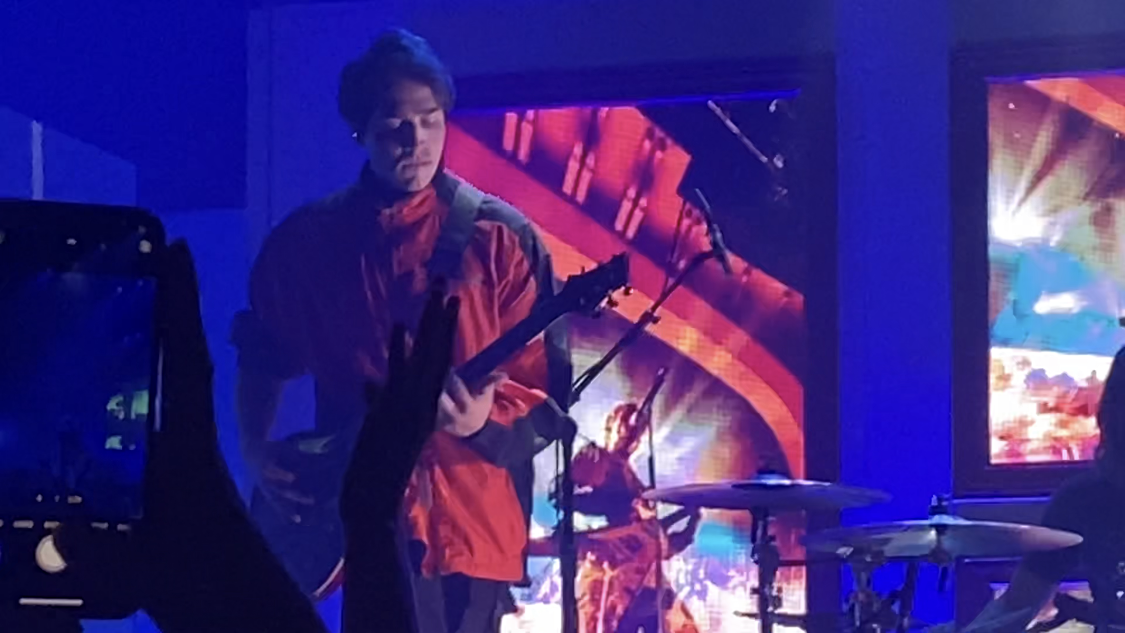 Geoff Wigington, the guitarist, moved around the staged a lot, so everyone was able to see him well. He also made eye contact with with the crowd, including the people in the balconies. I liked that he made an effort to acknowledge everyone, because it was more engaging that way.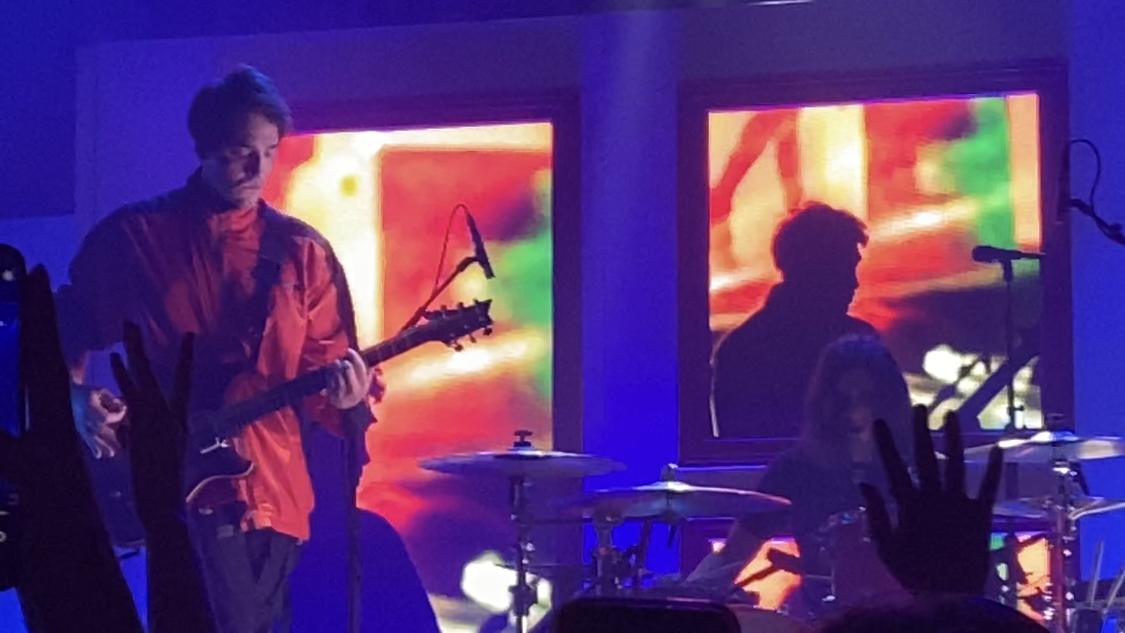 Otto Wood killed it on the drums; they were very satisfying and added a lot to the performance. He also talked to the crowd at one point, after someone suggested it and then everyone chanted his name. He said "Howdy" and introduced the next song.
Awsten Knight talked with the crowd a lot and was very funny. He read, or at least tried to read the signs people were holding up and made hilarious comments throughout the night. One example was a guy in the balcony shouting "Yeehaw" in a very low and aggressive voice, and Awsten telling the crowd to imitate that guy, and then saying if we were an army and just shouted Yeehaw like that, we would be scary. I wish I had a video of that interaction, but I was trying to save space on my phone for videos of the songs.
Conclusion
Overall, it was a very fun night. You could feel the floor moving with how much everyone was jumping around, and pretty much everyone was screaming the lyrics. No one was being aggressive or pushy, at least from where I was. It was very hot and sweaty in the pit–maybe more so than usual–but it was a sold-out show so it made sense. During the acoustic songs, it cooled down a little because people weren't jumping around as much. Everyone seemed to be having a good time. They also played a lot of my favorite songs of theirs. I would highly recommend you see Waterparks if they come to a city near you.
Go to https://www.waterparksband.com/ to check out the tour dates.
Follow Waterparks on socials!
Watch episodes of Pop-Punk & Pizza on YouTube! Or listen here!