L.S. Dunes 'Past Lives' album review
L.S. Dunes – Past Lives album review: fresh and rippin'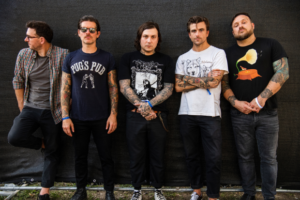 L.S. Dunes is a supergroup of sorts comprised of My Chemical Romance guitarist Frank Iero, Circa Survive and Saosin vocalist Anthony Green, Thursday drummer Tucker Rule, bassist Tim Payne, and Coheed & Cambria guitarist Travis Stever. The band has explained that "L.S." mainly stands for "love songs for lost souls"; however, the lyrics of their song "Grey Veins" reveal even more possible meanings of the two letters (We'll get to that later). L.S. Dunes released their debut album Past Lives, last Friday, Nov 11. The album synergizes the sounds of each member's styles, and sounds fresh at the same time. The genre can overall be described as post-hardcore, but it also sounds new and unique from what other post-hardcore acts have done in the past.
Many of the lyrics are about dealing with the effects of the pandemic. From reading the lyric booklet, I can see that they are very poetic and intentional as well, which is something I love to see in music. In short, it is a totally rockin', rippin' album.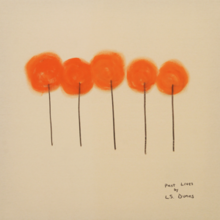 Here is my review of each song on Past Lives.
1. 2022
As with a typical post-hardcore song, 2022 starts out already swinging. Then it slows down when it gets to the chorus, and becomes almost dreamy before going hard again. The bridge is intense and suspenseful; I can imagine it playing at a point in a movie when someone is running away, trying to reach whatever their ultimate checkpoint is. It goes out with a bang and ends with faint, mysterious piano.
Antibodies starts out with a solid melody. It's definitely something you'll want to bop your head to. It's a little more upbeat-sounding than 2022. It still has a twinge of sadness to it with the guitar though.
This is one of my favorites on the album. LOVE the bassline this starts out with. The vocals in the beginning are soaring and ethereal. I LOVE the chorus too–It's something I can specifically picture Frank Iero writing and singing, even though he's not singing on this album. However, he did sing the some of the chorus when they performed it live at Riot Fest in Chicago in September. That might be part of why I can picture it; but it's not just that. It reminds me of a song on one of his solo albums, like Barriers (2019). Anyway, it's very vibey and kinda chill, but not too chill, like you can still rock out to it. I'll probably have it on repeat. In addition, the lyrics give more possible meanings to the acronym "L.S.", such as: laughing stock, limitless song, loveless sour, leave so long, etc., and then does it reversed: "separated line, sensing less, so long", etc. I like how the lyrics are so intentional and almost cryptic, in a way you have to think about what they mean; because you don't get that very often these days.
Starts out with great screamed vocals. As with all the songs, the layered guitars compliment each other very well. The bass is also audible in every song, which I appreciate, because this is not always the case with other artists/bands. It's not a track that stands out to me compared to the other ones, but it's good and cohesive with the other songs.
The guitar melody in the beginning is almost bluesy, but emo at the same time, and makes me picture someone in an empty bar, looking out the window. I know that's very specific, but I'm just trying to paint a picture here. It's a good song to listen to while you contemplate your life.
This one starts out more upbeat and faster than the last one. The bass is especially clear on this one in the beginning, and there is something mysterious and almost alien-synth about the guitar. It transitions into the chorus nicely and makes you want to bop your head along to it. "I know we can get well," is one of the lyrics on this one that stands out to me, and the lyrics on this one are overall encouraging. Then the guitar sounds kind of violin-y, which is interesting. I don't think I've ever heard a guitar sound like that before, if that even is a guitar, but I think it's cool.
This one starts out with a beachy sounding guitar. The guitar on the pre-chorus reminds me a little of "Aberdeen" by Cage The Elephant, and kind of has that vibe on the bridge as well. It's kind of eerie in a way.
I love how the guitar on this one starts out. Definitely another head-bopper. This is one of my favorites on the album. I really like the licks of the lead guitar as well as the fast strumming of the rhythm guitar on the verses. The chorus is a jam too.
This one is really cool on the pre-chorus as well as the chorus. It's dramatic and epic with the echoey vocals and then the transition to the heightened excitement.  I mean, the whole song is really cool. I love the screams and the dramatic drums on the bridge–it's almost something that could be on The Black Parade. It's not quite that vibe, but it is a really cool and epic song in my opinion, almost rallying.
10. Permanent Rebellion
This is my favorite song on the album. First, there's a sound that reminds me of .Stomachaches. by frank iero and the cellabration. The bassline in the beginning reminds me a little of the one in "Give 'Em Hell, Kid" by My Chem; and the fast drums build the excitement, and remind me of the drums in the beginning of "Stay Away" by Nirvana. So naturally, it's my favorite. It's catchy and I LOVE the screams on this one. The chorus is thrashy and you can definitely headbang to it. I really hope I get to see this one live sometime (I wanted to see their set at Riot Fest but unfortunately was held hostage by the secret service, but that's a story for another day). It's energetic and lets you get some of your anger out.
This is the slowest one on the album, and my least favorite, because I don't typically like slow songs, but it does do a good job of closing out the album. It's got a doo-wop thing to it, and it's kind of like a slow-dance song. But the dark lyrics contrast that sound: "Sorry that I wish that I was dead."
Overall, I love the screamed vocals, the layered guitars, the strong clear bass, and the exciting drums on this album. I also really like the lyrics and I can tell they put a lot of thought into them, which I appreciate. I will have songs from this album on repeat, like Permanent Rebellion and Grey Veins, which are my favorites. Bombsquad and Grifter are really cool too. I would definitely recommend this album, especially if you like post-hardcore, emo, alternative, grunge, hard rock, or screamo. There are elements of all those genres on this album, and at the same time, it sounds fresh and different. Congrats to the band for working hard on this album and making it sound awesome! I love it.
Listen to Past Lives here or anywhere you get music.
You can find L.S. Dunes on:     Instagram      Facebook      Twitter      YouTube      Tik Tok
L.S. Dunes are performing at Corona Capital in Mexico City, Mexico next (11/18).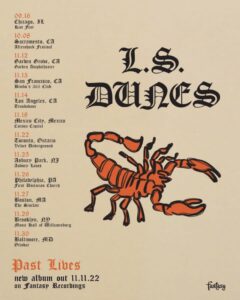 If you got this far, here's a bonus photo of me with Frank Iero at Riot Fest (AAAHHH!!)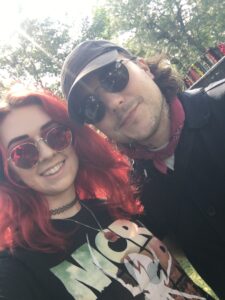 Pop-Punk & Pizza Podcast Host
Instagram: @noelleturtlez16
Twitter: @noellewiththe_e