Palaye Royale Fever Dream Review: You will cry and dance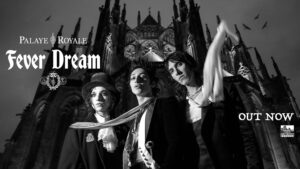 A track-by-track review of Palaye Royale 's new album Fever Dream
Palaye Royale released their new album Fever Dream today! I've listened to the singles that came out before the album, but today is the first time I've listened to the rest of the songs, and I can already say it has my vote for album of the year.  If you like My Chemical Romance and/or the White Stripes, and/or kick-ass music, you will love Palaye Royale. Perhaps their most ambitious album, it has sounds from their first couple albums, Boom Boom Room Side A (2016) and Boom Boom Room Side B (2018), some sounds from their 2020 album, The Bastards, and synergizes it with a whole new sound. It has big concept album vibes, including MCR's The Black Parade (2006) vibes, that will make you both cry and dance. It is the kind of music that hits you in the soul, takes you for a ride and makes you want to scream, "YESSS!!!"
In this review, I will be going into my first impressions of the newly released songs on the album, as well as  commentary on the already-released songs.
The intro starts out with a mellow guitar that ellicits a certain feeling to get you into the mood. After the intro, the ripping guitars kick in. The guitars in this song remind me a lot of the guitars on "Sleep" from MCR's The Black Parade, which Palaye Royale frontman Remington Leith has stated was his favorite MCR album, so it makes sense. This is definitely one of my favorites on the album. The bridge starts out with some wicked guitars, and then changes it's melody a few times, which was unexpected, and kind of caught me off guard. However, I definitely feel like that part will grow on me the more I listen to it. Plus, songs that are too predictable usually aren't as good anyway. And if you know me, you probably already guessed that I love the screamed vocals on this song.
Track 3: No Love In LA
This was the first single Palaye Royale released from Fever Dream, back in the summer, and it is still a bop. Plus, now I see how it fits into the album. Because of this single, I thought the album was going to be more pop than their other albums, which it is, but it's also a mix of that with rock and a big concept-album feel. This song is catchy and ends with an eerie orchestra of violins, which makes it tie in more with the rest of the album. Also, I just realized as I was typing this that the violin outro kind of reminds me of the outro to "Mama" from The Black Parade. There will be more mentions of that album in this review, just sayin.'
Track 4: Punching Bag
"Punching Bag" is another single that was released before the album around the same time as "No Love In LA". It has eerie and dramatic vibes, and the lyrics have a sarcastic tone to the person who is treating the narrator like a punching bag. I originally liked this one more than No Love In LA, because it's darker and has more screamed vocals; however now I don't know because they're both great.
Track 5: Broken
Not one of my favorites on the album; it's more pop-sounding and one of the slower tempo songs. However, it's still good, especially if you prefer those kind of songs. It's sad as well–actually, pretty much all of the songs on this album are sad in some way.
Track 6: Fever Dream
This was a single released very close to the album's release. When I first listened to it, I cried a little, not gonna lie. It immediately reminded me of "Welcome To The Black Parade", because of it's concept-album sound. That essence is difficult to describe, but what I mean is that it's big/grandiose/epic. If you just listen to it, you'll understand. It also reminds me a little of the melody/chorus in "The Only Hope for Me is You" from MCR's Danger Days (2010).
Track 7: Line It Up
The piano in the beginning is very reminiscent of Michael Andrews and Gary Jules' cover of "Mad World" originally by Tears For Fears. Interestingly, Palaye Royale has also covered that song. The lyrics of "Line It Up" hit close to home for the band, according to some of their posts on Instagram. They have mentioned that the lyrics talk about the hardships they are going through on the road, being in the band, and in their life right now. This song features vocals from LP, which is an artist I haven't heard of before, but the addition of their higher-pitched vocals go very well in harmony with Remington's lower voice.
This song sounds pretty upbeat, despite its lyrics, and I personally think it would be good to listen to while working out. It's not as memorable as the other songs, and it's also the shortest one on the album, being 2 mins 20 sec. It's a solid jam though.
Wasted Sorrow takes me back to their first two albums with The Stooges-like garage-rock sound. It also includes some "Sleep"- sounding guitars in the beginning and chorus. It's an eerie addition to this otherwise upbeat-sounding song. It's pretty energetic and it's one of the best songs on this album in my opinion.
Track 10: Paranoid
This was another single released before the album, and I really do love this one. It's not my favorite, but it's catchy and it makes you want to sing along to it. It also has a good build-up to the dramatic bridge, and then calms down again before heading back into the catchy chorus.
Grab some tissues for this one, you might need 'em. This is the slowest and most ballad-y song on this album. It's still good, just not one of my favorites, because I don't typically like slow songs. But the lyrics are relatable, interesting, and from the heart, as with every song on the album.
Track 12: Lifeless Stars
The ordering of this track after Oblivion works well in my opinion, because this is also a slower song. Although, I like it better. It's very calming and something about the melody and the drums makes it a little more upbeat. Come to think of it, I don't believe Oblivion has drums on it.
This one will definitely make you want to dance and jump. Another one of my favorites. Gives me chills. I love it, and I hope they play it live at their future shows; I think it would be great live. It has a good stomping beat and it's very energetic. Also, good distant screams in the background of the bridge. Definitely an anthem.
This gave me chills all the way through the song. If you thought "King of the Damned" was good, you'll love this one too, maybe even more. This also has a good stomping beat and a quality that makes you want to shout the lyrics along with it. It also has some great distorted White-Stripes-like guitar. In addition, it totally reminds me so much of "Kiss The Ring" from one of MCR's Conventional Weapons (2013) EPs. It ends abruptly and then goes into the outro. I really wish there was more to this song because it's so great, and the outro is basically a completely different song altogether. I feel like it needed more closure.
Not entirely sure why this one didn't just get it's own title, because as I said, it sounds completely different from the previous song and has a completely different vibe. However, it's definitely a closing song; it's slow and fades out at the end, with the lyrics repeating. It lets you chill out after you've been dancing like a crazy person to the last two songs. It also reminds me a little of Green Day's "Jesus of Suburbia", not because of the melody or the sound of it, but because of the way it transitions from the last song and changes tempo from fast to slow. This was just my first impression, but I kind of hoped it would've closed out with a little more "oomph" rather than just fading out. But maybe my opinion will change after more listens.
Palaye Royale Fever Dream In Conclusion
Overall, this album is cohesive and the order of the songs flow as well. The lyrics are also very relatable. It is a different sound from Palaye Royale's past albums, but definitely still sounds like the band. My favorite album of theirs is still The Bastards (2018), because every single song on that album rips and is a favorite, but I love this one a lot.
You can really tell that Palaye Royale poured their heart and soul into this album, working to make sure it was what they wanted it to be. They really cared about making this the best they could, and it shows. I will definitely continue listening to this amazing album.
I was going to rank the songs, but it was too hard, so I'll just tell you my favorites: "Eternal Life", "Off With The Head", "King of the Damned", "Wasted Sorrow", "No Love In LA", and "Punching Bag".
Palaye Royale is so underrated and if you haven't already, listen to me. YOU NEED TO CHECK THEM OUT!!!
Follow them on socials: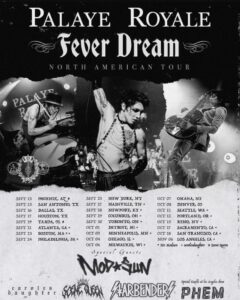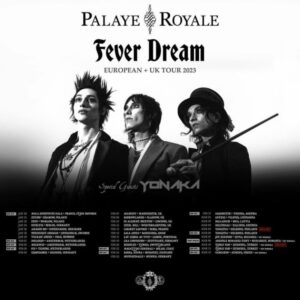 Pop-Punk & Pizza Podcast Host
Instagram: @noelleturtlez16
Twitter: @noellewiththe_e