Emo, Kevin Andrew, Reviews, Shows/Festivals
My experience at When We Were Young Festival
My experience at When We Were Young Festival by Kevin Andrew
What the fest was really like
By guest writer: Kevin Andrew of Guardrail
Photos by: Kevin Andrew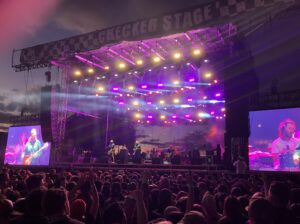 When the When We Were Young Festival was announced early this year, I was blown away. It was almost every emo band I've loved since high school playing the same festival in one day in Vegas. It took me back to my early Warped Tour days. While I feel like most people were stoked on it, I noticed so much negativity in the comments section, and I really wasn't sure why. I ended up going to the fest, and now that it's been a few weeks, I want to reflect on my
experience and touch on the negativity.
My girlfriend Larissa & I flew in late Wednesday night. With the festival being Saturday, we met up with friends & wandered Vegas. On Friday night we attended one of the WWWY late-night shows at Brooklyn Bowl. It started with Strange 90s, which was a cover band with different all-star singers basically doing live-band karaoke (including Jaret Reddick, Stephen Christian, Ronnie Winters, & more), ending with Goldfinger coming out to play a couple songs. This was followed by sets from The Summer Set, Sleeping With Sirens, & one of my favorite bands Story Of The Year. It was a great show, got me even more stoked for the next day.
Wind
Saturday morning we met up with friends staying at the Sahara, which was walking distance to the festival grounds. We all JUST met up in the lobby when we got word that the festival was unfortunately canceled for the day. Due to high winds in the area all day clocking in at 40-60 mph, the fire marshal shut it down. Since we were already nearby, we walked over to the grounds and could see how bad the wind was. I'm from the Windy City so let me tell you, it was ROUGH. Dust and debris were flying around everywhere. I saw things falling off construction sites. By mid afternoon there was so much dust in the sky we could no longer see the mountains. As bummed out as I was, it was definitely the right call.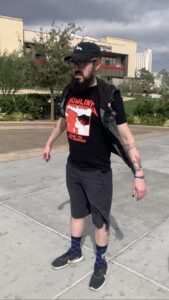 This left tens of thousands of misplaced emos loose in Las Vegas trying to find other things to do, drown their sorrows, & make the best of it. Many bands did not want the day to go to waste, securing pop-up shows all over Vegas. The All-American Rejects played in a restaurant. Hawthorne Heights, Armor For Sleep, & The Red Jumpsuit Apparatus did an acoustic show at the Strat hotel. Senses Fail, Bayside, & Thursday played together at the Sand Dollar on Freemont St. The only downside of this was there were thousands of people trying to
get into these small 400-cap rooms. Regardless, it was a beautiful thing to see.
Shane Told's Hotel Suite
So what did I end up doing? If you're not familiar with the Lead Singer Syndrome podcast, it's by Shane Told of Silverstein where he interviews lead singers. Due to being in the podcast's Patreon group, I've gotten to know Shane a bit. Since he knew I was there for the fest, he hit me up saying he was going to bring anyone from the Patreon group that met up at 4:45 PM to his hotel suite, surprising them with an intimate acoustic set. He asked if I wanted to play too, to which I absolutely agreed (although I'd been drinking since 10:30 AM and had no time to rehearse). So I ended up playing some tunes to about 45 people in a Vegas hotel room alongside Shane. It was an experience that I'll never forget.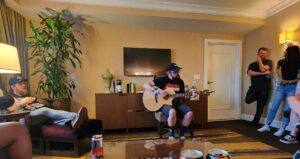 Day 2
By Sunday morning, the weather was looking much better & the WWWY socials posted that the second date of the festival was good to go. Luckily for me, one of my friends got a photo pass and no longer needed her Sunday ticket. She gave us her ticket, so Larissa & I figured we could just take turns going into the fest. I went in first around 1:00. The entrance had pink turf and a big entryway with the festival's logo on it, for the perfect photo opportunity. I went right over to the Checker Stage to watch Story Of The Year. A sea of thousands of people singing the words to "Until The Day I Die" was insane to be part of. I caught Anberlin and a song of Armor For Sleep before I ran out to meet Larissa.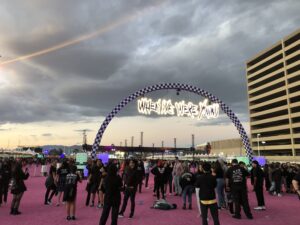 I carefully peeled off my re-entry wristband, gave it to her, and she went in to catch Pierce The Veil. I strolled over to Circus Circus to grab some whiskey shooters, a PBR tallboy & a huge pretzel. You could hear the bands playing from the street, so I wandered over there to enjoy my lunch while listening to PTV, The Used, & AFI, striking up conversation with some others doing the same thing. Larissa met back up with me after The Maine. She was able to get her hands on another re-entry wristband, which she gave to me and we both ended up getting in. We watched A Day To Remember, The All-American Rejects, & Avril Lavigne together. She went to watch some of Bring Me The Horizon while I caught some Alkaline Trio before we had to head to the airport.
Negative Comments Addressed
Overall, this was a great festival. Despite the first date unfortunately getting shut down, the second date was a pretty standard festival experience. Being it was the first year, there were obviously some minor things that I'm sure they'll fix for next year. But I didn't see any real issues. The bands all sounded great. The layout was decent so getting from stage to stage was pretty easy. There were plenty of restrooms and water stations. There were a lot of food vendors, who also had vegan and gluten-free labels on their signs. It really did not deserve the social media hate that it got. I want to address some of the common negative comments I saw:
● "60 bands in one day? How is that possible??" Do you not remember Warped Tour where they did this in 50 cities over the summer?
● "A lot of bands didn't know they were even playing!" Not true. The bands did not initially know the full lineup. I heard the same story come from multiple bands that they were asked to play a festival in Vegas with MCR, so they were simply surprised to see the full lineup. Most of these bands have a booking agent who handles these things anyway.
● "It's gonna be like Fyre Fest!" That shitshow was by an actual con artist with zero music festival experience, leaving rich people stranded on an island with little to no resources. WWWY is in downtown Las Vegas. Clearly this is a wild comparison.
● "This is the same people that did Astroworld!" Livenation did put that festival on, yes. But they also run and operate dozens of music venues and festivals across the country. This is like saying that the employees at House of Blues are the 'same people that did Astroworld' because it's a Livenation venue.
These people would rather start with negativity so they can say "I told you so!" if something goes wrong, instead of being happy that such an event is happening. Why is that? I could never imagine living your life that way. Even when the first date was canceled, I saw a lot of "I knew it was a scam!" comments & posts. The tickets were being refunded (I got my refund about a week later), the bands were all there & still were at least paid something, the stages were all set up and ready to go. If anything, the festival LOST money that day. The last thing they wanted was a stage blowing over causing injury or death, especially after the whole Astroworld fiasco.
Also, only one band dropped from the initial announcement, and it was due to illness, nothing to do with the fest itself. Wouldn't more bands have dropped if it was really a "scam"? I think after Fyre, Astroworld, the recent Woodstock '99 documentary, people not attending these events are just begging for another trainwreck to laugh at, which is so gross when people's careers, well-being, & lives are at stake. Anthony Raneri of Bayside put it best when he tweeted: "Why is everyone acting like the largest promoter in the world and like 60 veteran bands are just winging this?" Exactly.
Overall thoughts
Having almost 2 years without live music, attending something like this was a wonderful experience. In a post-Warped world, seeing all those bands playing together was a wild ride for both fans & the bands (I saw a video of Bert from The Used saying something like "this is like Warped Tour on steroids!"). So the moral of the story is that there's no use being bitter like that, especially when it's about something that doesn't even affect you. Just stay home and move on. The dates that didn't get canceled were successful, so what was gained from the negativity?
They already announced the lineup for next year's fest (with Green Day & blink-182 headlining), as well as the nü-metal-heavy Sick New World Festival in May with System Of A Down. Hoping that the weather doesn't stop those from also being successful. Stay happy, see you there!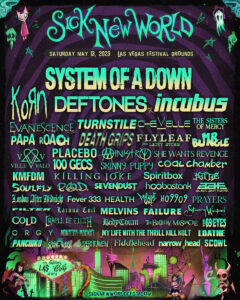 Lead Vocalist of Guardrail/Pop-Punk & Pizza Contributor
Listen to the Pop-Punk & Pizza podcast on YouTube, Spotify, and anywhere else you get podcasts!